Martin Boyle Haulage Ltd
Website coming soon...
Address: Upper Dore, Bunbeg, Letterkenny, Co. Donegal
Telephone: +353 (0)74 953 1711 :: Email: info@martinboylehaulage.ie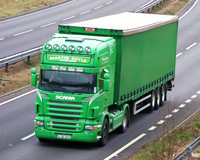 Martin Boyle Haulage is Irish based and established by a team of professionals with decades of experience within the transport industry.
The company philosophy is to focus on the needs of its customers and develop cost-effective solutions to meet them. Specialising in certain sectors of the transport industry, Martin Boyle Haulage has become a market leader within the movement of dry goods.
We pride ourselves on our highly skilled and trained staff, whilst maintaining continued investment in the latest equipment and technology, ensuring total customer service satisfaction. Our services consist of dry goods haulage throughout the whole of Ireland and mainland UK. Our very distinctive green and white trucks are a regular occurance on UK motorway network.